Project Funding
BLE is a central implementing authority within the scope of the Federal Ministry for Food and Agriculture (BMEL). On behalf of BMEL, the BLE manages, technically and in terms of organization, numerous national and international projects in the fields of food, agriculture and consumer protection. ptble also acts on behalf of the Federal Ministry for the Environment, Nature Conservation, Building and Nuclear Safety (BMUB), the Federal Ministry of Health (BMG), and the Federal Ministry of Justice and Consumer Protection (BMJV).
Research projects are managed by the BLE's qualified and committed experts, starting with providing initial advice to those seeking support for projects up to the administrative processing and providing of technical support throughout all stages of the project, - starting right from the very idea for a project up to the utilisation of project results. Modern software and online procedures are applied to this end.
Project management covers the entire value-added chain in the fields of
agriculture,
fisheries,
forestry,
food production and
nutrition and consumer health protection.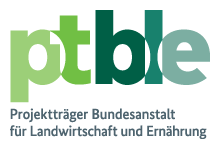 Future viability and sustainability are the key objectives applying to all these fields. Measures are implemented in Germany and in European and international cooperation. ptble has a high level of technical and administrative expertise for achieving these goals.
In order to be able to provide appropriate funding to the wide range of topics and objectives, ptble has a number of instruments for promotion at its disposal. Technical support is provided by the respective competent technical units, whereas administrative processing is centrally organized.